Why Pressure Washing?
As many property managers can confirm, only pressure washing (sometimes called power washing) and steam cleaning can sufficiently beautify and sanitize such surfaces as walls, signs, sidewalks, awnings, fountains, statues, trash enclosures, and parking structures and garages. Given that cleaning exterior surfaces on your commercial or industrial property is key to ensuring its longevity and attracting customers, having a reliable steam cleaning or pressure washing company ready at hand when you need steam cleaning of trash areas, gum removal, graffiti removal, or pressure washing services is a necessity. Thankfully, Jacketta can help here, too: our power washers and steam cleaners have experience with removing all kinds of debris, whether it be gum, oil, grease, mildew, mold, paint, or graffiti markings.
What is Pressure Washing?
Pressure washing (or power washing) involves the use of pressurized water that is dispensed from a wheeled cart or other mobile vehicle. This mobile unit can be situated on any part of a commercial or industrial property, allowing us to reach such areas as sidewalks, trash enclosures (or dumpster areas), parking structures, building exteriors, signage, awnings, and canopies.
Pressure washing is particularly useful for such blemishes as food and beverage spills, oil stains, grease, mud and hardened dirt, mold, mildew, bird excrement, and loose paint. Adaptable valves and nozzles allow us to change the amount of pressure produced and the pattern of the water's spray. These adaptations are essential for treating a wide array of surfaces, whether concrete, glass, stone, vinyl, fabric, wood, or metal.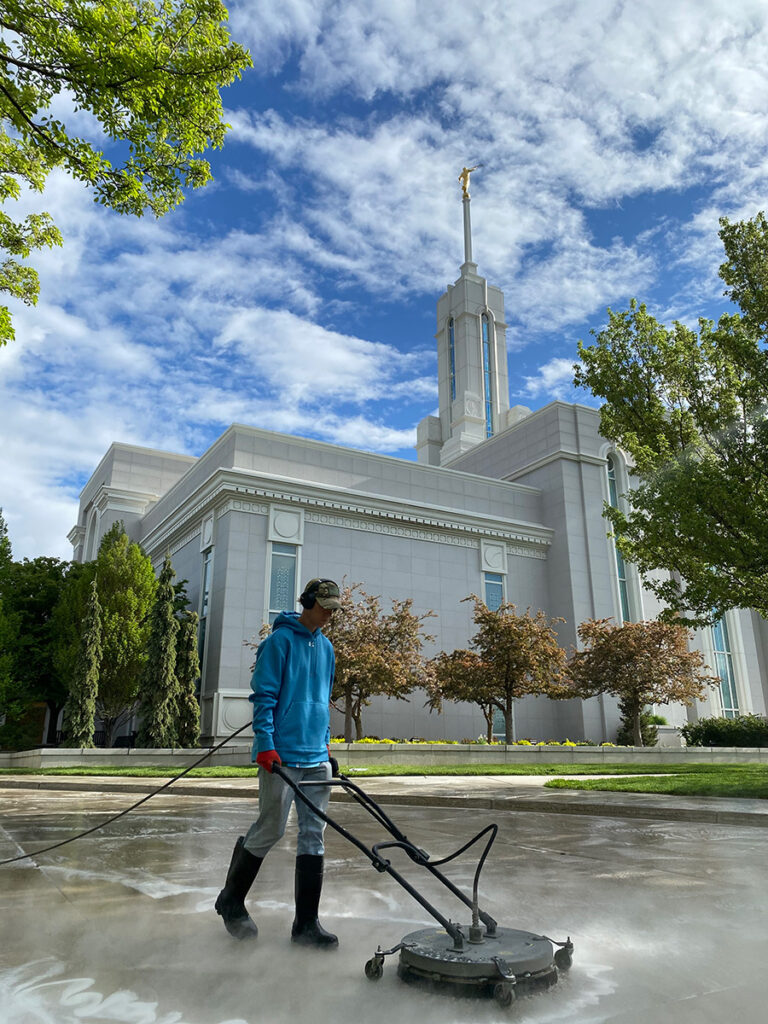 Jacketta Sweeping is Utah's Premier Maintenance Service Provider. Located in West Valley City, Utah, we are able to provide power washing, pressure washing, porter services, and debris removal; as well as sweeping services to the surrounding areas.  Request a quote today to for our professional team to provide information for your next project.
We offer a wide array of Maintenance services in the greater Salt Lake City, Utah area. Learn more about our Maintenance Services. 
Request A Free Quote Today!
Professional Power Sweeping
The family business was started in 1968 by Neil and Bonnie Jacketta. We began by sweeping parking lots with a Wayne ride-on sweeper. Today, we have 15 different kinds and sizes of equipment, which enables us to provide Salt Lake City parking lot sweeping and street sweeping services to many municipal, commercial, industrial, and construction companies throughout Utah.
We have contracted with Jacketta Sweeping for many years and wouldn't want it any other way. They are accommodating and courteous not only to our staff, but to all of the residents in town. Whether it's a minor clean up or a city wide sweeping, they are eager to help. Their follow through guarantees a satisfying result every time they come to town. Without a doubt, we know we can count on Jacketta Sweeping to get the job done quickly and professionally.
The Road Home, its residents, Midvale City and myself are very grateful for the generous gift you have bestowed upon us by cleaning our parking lot. The Families here at our Shelter are very grateful to you for donating your time & resources. The driver was very courteous with our Residents and Donors alike. The parking lot and 9th Avenue look fantastic! I have already heard many compliments. How cool it is that Jacketta Sweeping Service would do something so kind to help out with such a needed service to an organization such as ourselves.
Thank you for our relationship with you and your amazing company. I have been very impressed by the response I get each time I call and request for help or assistance. I thoroughly am impressed by the quality of response time from your dispatch & employees and how well you work as a team. Most of all, your work on our properties have been excellent. You do exactly what we request but also far beyond our desires. Thank you so much for all that you do and we highly recommend your services to all out there in need of your services.