Salt Lake City Milling and Aggregate Recovery Sweeping
Paving a highway is not the easiest task, but the task of recovering aggregate and cleaning up after each of the milling processes isn't quite a walk in the park either. That's why you need a company with the experience, equipment, and crew who can provide the best milling sweeping services in the business! Jacketta Sweeping will be there for you through every phase of construction, in order to ensure that your area is clean, accessible by trucks, safe for your workers, and won't violate any Clean Water Act regulations or fail Stormwater Pollution Prevention Plan (SWPPP) inspections.
We use a range of equipment to ensure your construction site and the surrounding area remains pristine:
Heavy-duty mechanical broom and regenerative air sweepers pick up gravel, mud, dirt and debris
High dump sweepers ideal for dumping in dump trucks and roll-off containers
Water sprayers help suppress dust during sweeping
Vehicles equipped with bumper magnets pick up nails, screws and sharp metal objects
Heavy-duty sweepers ideal for milling operations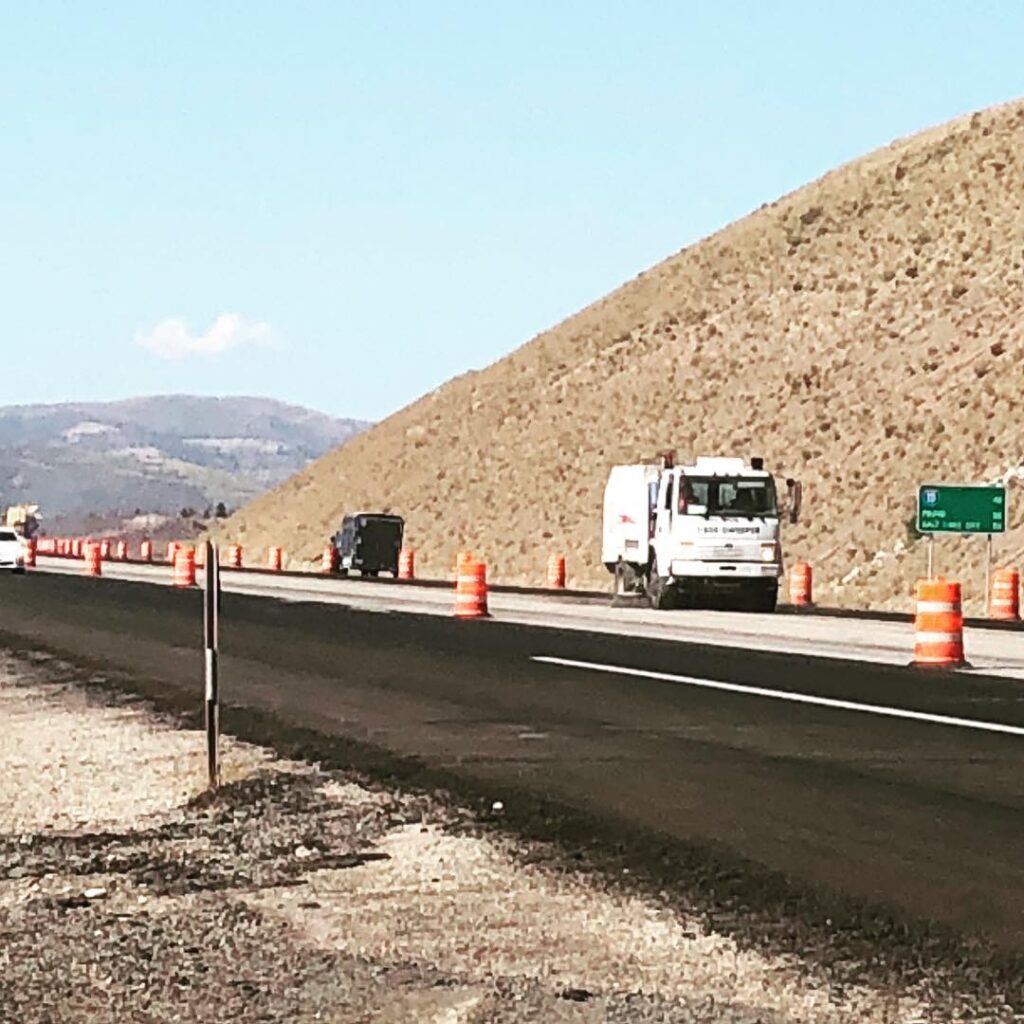 Jacketta Sweeping is Utah's Premier Sweeping Service Provider. Located in Salt Lake City, Utah, we are able to provide parking lot, retail, municipal and HOA sweeping services; as well as maintenance services to the surrounding areas.  Request a quote today to for our professional team to provide information for your next project.
Extend the Life of Your Pavement Investment
Over time, even the best-poured pavement ends up with cracks and fissures. At Jacketta Sweeping our mission is to help you maintain the value of your initial investment. We offer commercial asphalt and pavement maintenance and repair for municipalities, businesses, and property managers.
Pavement and Asphalt Maintenance Services
We provide an all-inclusive pavement and asphalt maintenance service that extends from seal coating asphalt to painting parking lot lines. Our services include:
Parking lot painting including planning layouts and striping
ADA compliant parking lot signage installation
Pothole repair for asphalt cracks and potholes
Porous pavement maintenance
Seal coating for asphalt lots
Parking lot stain removal
Parking lot lighting survey and replacement
As a comprehensive pavement and asphalt maintenance company, we will work with you to develop an optimal program to extend the life of your initial pavement investment.
We offer a wide array of Power Sweeping services in the greater Salt Lake City, Utah area. Learn more about our Professional Power Sweeping Services. 
Request A Free Quote Today!
Professional Power Sweeping
The family business was started in 1968 by Neil and Bonnie Jacketta. We began by sweeping parking lots with a Wayne ride-on sweeper. Today, we have 15 different kinds and sizes of equipment, which enables us to provide Salt Lake City parking lot sweeping and street sweeping services to many municipal, commercial, industrial, and construction companies throughout Utah.
We have contracted with Jacketta Sweeping for many years and wouldn't want it any other way. They are accommodating and courteous not only to our staff, but to all of the residents in town. Whether it's a minor clean up or a city wide sweeping, they are eager to help. Their follow through guarantees a satisfying result every time they come to town. Without a doubt, we know we can count on Jacketta Sweeping to get the job done quickly and professionally.
The Road Home, its residents, Midvale City and myself are very grateful for the generous gift you have bestowed upon us by cleaning our parking lot. The Families here at our Shelter are very grateful to you for donating your time & resources. The driver was very courteous with our Residents and Donors alike. The parking lot and 9th Avenue look fantastic! I have already heard many compliments. How cool it is that Jacketta Sweeping Service would do something so kind to help out with such a needed service to an organization such as ourselves.
Thank you for our relationship with you and your amazing company. I have been very impressed by the response I get each time I call and request for help or assistance. I thoroughly am impressed by the quality of response time from your dispatch & employees and how well you work as a team. Most of all, your work on our properties have been excellent. You do exactly what we request but also far beyond our desires. Thank you so much for all that you do and we highly recommend your services to all out there in need of your services.