Salt Lake City's Premier Parking Lot Sweeping Services
We are Salt Lake City's Premier Sweeping Company.  From parking lot, parking garage, to large industrial complex sweeping; we are the choice in Salt Lake City and surrounding areas for all your sweeping needs. Let us quote your next project, and let our team of professionals provide quality checked services.
 We operate multiple trucks 7 days each week. Serving the greater metro Salt Lake City  area. Each truck is equipped with live and recorded GPS to verify the arrival and departure of our trucks.
Jacketta Sweeping can provide your center with a full service sweeping program, or customize the service to the needs of your property. Our service is available every night or any number of nights each week. We consider full service to be:
Sidewalks blown of all litter, debris and trash.
All trash and litter in the corners, handicap parking spaces, islands, cart return racks and all areas that the truck can't access, are blown into the parking lot to be swept up by truck.
All parking areas and pavement are swept of all trash, litter, and debris.
All green space, landscape, islands and flowerbeds are handpicked of large litter, trash, and debris.
Trash cans are emptied and can liner replaced.
All entrances and exits swept.
Service areas and dumpster enclosures cleaned of large debris.
Jacketta Sweeping prides itself in offering unmatched quality, service, and reliability. We are committed to doing the job right every time. We know that a clean lot, at a reasonable price, is important to your business and budget. We are always available to discuss the needs of your property.
Jacketta Sweeping maintains a modern fleet of quiet, dependable, sweeper trucks to erase the daily abuse customers can bring to your parking lot. We make it possible for your parking lot and grounds to start each day fresh and clean.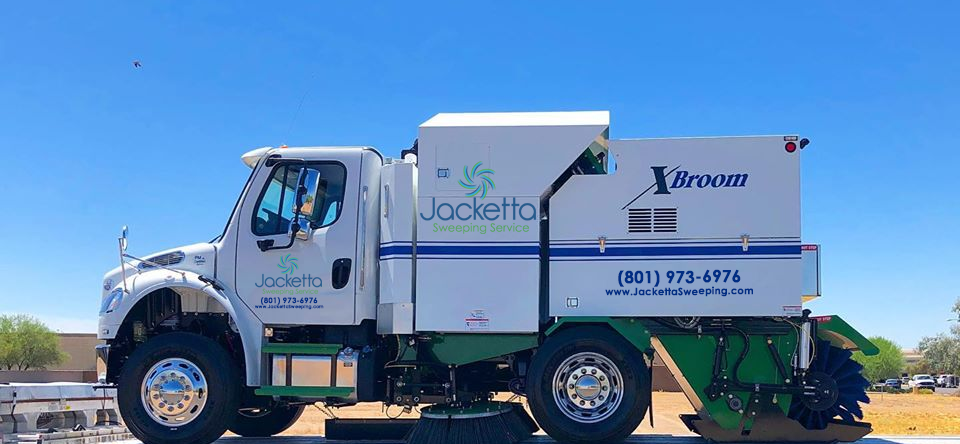 A well-maintained parking lot is an absolute necessity. You want to impress your clients, tenants, and inspectors, so you need to retain quality parking lot sweeping in Salt Lake City, Utah. Your parking lot receives the highest level of traffic compared to any other part of your establishment. As such, it's important to schedule regular upkeep. This will help your building maintain a positive and lasting impression.
Exterior and Interior Environmental Benefits
Debris, dirt, sand, oil stains, and trash can all accumulate without proper or on-going maintenance. Ignoring these environmentally harsh chemicals and debris will negatively impact your establishment's exterior impression and could potentially affect the interior as well. Guests and employees will likely track these harsh substances inside, and such substances could find their way into the water and airway systems. We can prevent this from becoming an issue.

What Our Parking Lot Sweeping Services Can Do For You:
Eradicate parking lot pollutants
Stop chemicals, materials, and other toxic substances from entering your enterprise
Free your lot of debris, oils, and spills
Maintain a healthy, immaculate parking lot

Quality Assurance from Start to Finish

Customer satisfaction is our number one priority. Jacketta Sweeping works together with our clients to deliver the highest standard of services possible. Our professionals takes pride in their work. We employ a staff of highly skilled and trained individuals who all understand how to operate our top-of-the-line equipment and high-powered trucks. If you are looking for one of the most reliable parking lot sweeping companies in the area, then you want to get in contact with one of our staff members.
We offer a wide array of Power Sweeping services in the greater Salt Lake City, Utah area. Learn more about our Professional Power Sweeping Services. 
Request A Free Quote Today!
Professional Power Sweeping
The family business was started in 1968 by Neil and Bonnie Jacketta. We began by sweeping parking lots with a Wayne ride-on sweeper. Today, we have 15 different kinds and sizes of equipment, which enables us to provide Salt Lake City parking lot sweeping and street sweeping services to many municipal, commercial, industrial, and construction companies throughout Utah.
We have contracted with Jacketta Sweeping for many years and wouldn't want it any other way. They are accommodating and courteous not only to our staff, but to all of the residents in town. Whether it's a minor clean up or a city wide sweeping, they are eager to help. Their follow through guarantees a satisfying result every time they come to town. Without a doubt, we know we can count on Jacketta Sweeping to get the job done quickly and professionally.
The Road Home, its residents, Midvale City and myself are very grateful for the generous gift you have bestowed upon us by cleaning our parking lot. The Families here at our Shelter are very grateful to you for donating your time & resources. The driver was very courteous with our Residents and Donors alike. The parking lot and 9th Avenue look fantastic! I have already heard many compliments. How cool it is that Jacketta Sweeping Service would do something so kind to help out with such a needed service to an organization such as ourselves.
Thank you for our relationship with you and your amazing company. I have been very impressed by the response I get each time I call and request for help or assistance. I thoroughly am impressed by the quality of response time from your dispatch & employees and how well you work as a team. Most of all, your work on our properties have been excellent. You do exactly what we request but also far beyond our desires. Thank you so much for all that you do and we highly recommend your services to all out there in need of your services.